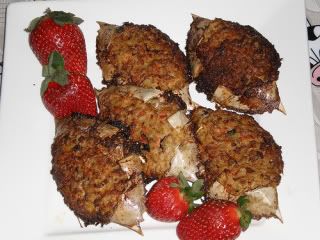 CRAB RELLENO INGREDIENTS:
2 kilos crab
1 1/2 cans crushed pineapple, drained
3/4 kilo corn, boiled and grated (optional)
2 stalks celery, diced
1 red bell pepper, diced
2 onions, chopped
2 chicken bouillon cubes
2 eggs beaten
2 tbsps. cornstarch
salt and pepper
CRAB RELLENO PROCEDURE:
1. In a deep pan, place the crabs, salt and crushed pineapple syrup; allow to simmer. Flake crab meat and reserve crab shells.
2. Saute the onions, celery, grated corn, bell peppers, and chicken bouillon in a skillet. Add the crab meat and crushed pineapple. Season to taste and cook for 5 minutes. Add the egg. Fill crab shells with 1/4 cup of sauteed mixture. Sprinkle with cornstarch. Fry surface until lightly golden brown. Top with grated cheese, if desired. Makes 6 servings.